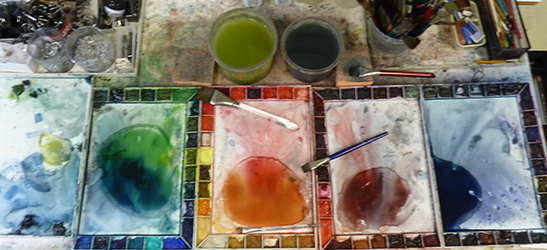 Painting Light and Night
Christine Neill
In addition to being an enduring companion, nature has supplied the primary imagery for my work over the past two decades. Using the immediacy of fluid paint mediums in tandem with my own photographs to interpret natural shapes and internal structures, I endeavor to imbue images with metaphorical references to myths, folklore, and peculiarities of the biological condition.
My practice typically involves scrutinizing the landscape for organic matter that is suggestive of human activity or biotic configuration. I then line my studio with the collected specimens, which I research before making a series of drawn studies.
Drawings and watercolors are created, layered with archival ink-jet prints. To do this, I scan plant material or engage my personal digital photographs; adjusting in Photoshop based on aesthetic inclination. Test prints are crafted as crucial references for applying the first drawing/watercolor layers. A digital stratum is then printed on the surface. I continue to deposit material until the combined layers produce a compositional balance. As the layers coalesce, they depart from observation in favor of expressive representation of an observed object.
Painting Light and Night
Christine Neill
On occasion, I have added an additional tier of printed Plexiglas, separated from the ground by spacers, allowing shadows from the foreground imagery to fall on the painted and printed surface below.
The evolution of artistic and organic resources, carefully layered to transform source material into artistic meditation stands as a reminder of humanities deep-rooted connection to the earth's natural resources, despite our intellectualism. The effects of invasive and endangered species on human life and their consequences on the earth's habitat underlie my artistic practice. My work celebrates the intricacies of thriving ecosystems and yet laments threatened species. Such dichotomies, in nature such as in art, bind us together as living entities in, on, and of the earth.